adopt a float is a multidisciplinary educational program that offers students of all levels around the world the opportunity to discover the global ocean and how crucial its study is to better understand and protect it. In line with the principles of Ocean Literacy, adopt a float offers students a scientific, cultural and civic approach to the ocean.
Adopt a profiling float, join the Ocean Voyagers community and embark on a scientific adventure throughout the school year: monitoring of the float and its data, meetings and exchanges with scientists, wrap-up sessions…
Scientists to educate all youth about the ocean
a flagship robot global ocean observation program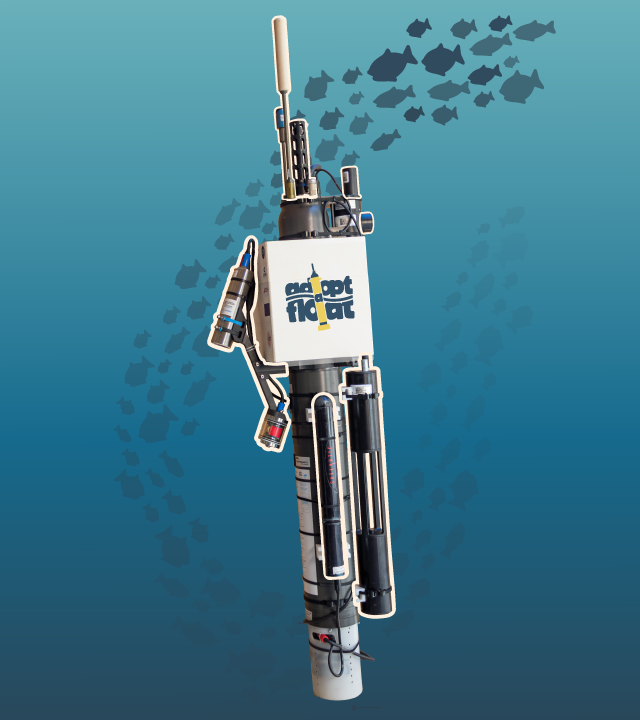 Salinity + Temperature + Pressure Sensor
Intended to take measurements to answer the questions of oceanographers, the profiling float is a flagship robot global ocean observation program. Today, there are several thousand of them deployed in the ocean.
Equipped with miniaturized sensors and linked to a database fed in real time, profiling floats measure and provide various physical (e.g. temperature), biological (e.g. oxygen) and chemical (e.g. pH) parameters between the ocean surface and 2 km depth.
Deployed from oceanographic vessels, they are programmed to dive down to 2000 m depth. While drifting with the currents, when they ascend towards the surface, they take measures.
Once at the sea surface, the collected data are transmitted by satellite and accessible in real time on an interactive map that scientists & classrooms share in use.
adopt a float uses the journey of these underwater robots to develop a scientific outreach approach with schools. Thus, these robots are not only terrific science tools but also, thanks to adopt a float, they are powerful educational tools!
adopt a float offers events throughout the school year